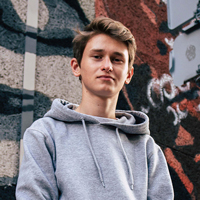 Written by Mykolas Krupauskas. A passionate software developer from Lithuania, currently situated in the Netherlands. Helping people create value with technology.
September 01, 2020 • 7 min read
A year has passed since I started my computer science and engineering degree. Things I liked, disliked, and thoughts about university.
March 10, 2020 • 6 min read
A technology that helps you easily, and cost-effectively deploy server-side code that scales amazingly well.
July 14, 2019 • 7 min read
My journey in the world of software development and how I started working as a developer while still studying in high-school.
May 18, 2019 • 4 min read
Recently I attended the first frontend conference in Vilnius. You Gotta Love Frontend was an action-packed and an extremely informative…
May 17, 2019 • 1 min read
A short introduction about me and this blog. Outlining what this blog is about and what I hope it will become sometime in the future.
Subscribe to not miss out on new content.
Keep up with things amazing things happening in technology, business, software, and the web.